 In 1960 the Shaker Museum opened its doors in Auburn, Kentucky. With leadership from founder Deedy Hall, along with tremendous community support, the museum grew quickly and received national attention from the press. As visitor numbers and additional avenues of support increased, the organization eventually raised funds, with the help of the Commonwealth of Kentucky, to purchase two of the original Shaker buildings at South Union, located on three acres of land. The museum was relocated and restoration on the buildings soon began.
Today, South Union Shaker Village comprises nine original structures on nearly 500 acres of land. This year we celebrate 61 years as a museum!
As we begin our seventh decade as a museum, South Union Shaker Village would like to invite you to join us in celebrating this milestone. After successfully surviving 2020's challenges, we are looking with great anticipation toward better days to come. This, our first-ever annual appeal, is being initiated with hope that you will support our efforts, helping ensure success as the museum turns "61 in 21!"
Last year in March, South Union Shaker Village closed for twelve weeks and decreased hours of operation due to low attendance caused by the pandemic. However, because of the dedication of our staff, governing bodies, and loyal donors, South Union Shaker Village mounted new exhibits, completed important restoration projects, added significant objects to the collection, and received statewide recognition from the Kentucky Historical Society.
As South Union Shaker Village begins its 61st season, we ask that you join us by making an "extra" contribution in addition to your membership dues. The future of SUSV is bright as we work toward the goal of increasing our children's educational program offerings, creating new events and workshops for adult visitors, and working toward a completed restoration of the 1854 Wash House. We feel strongly that the story of the Kentucky Shakers is an important one to be told.
Please support South Union Shaker Village by contributing toward our 61 in '21 Campaign for the 2021 season.
Contributions may be made by check or credit card. You may donate online by clicking the button above. Setting up monthly payments is also an option! Give us a call at: 270-542-4167.
Donations will be matched dollar for dollar up to $10,000.00, thanks to the generosity of the SUSV Advisory Committee and Board of Directors!
PROGRESS IN RESTORATION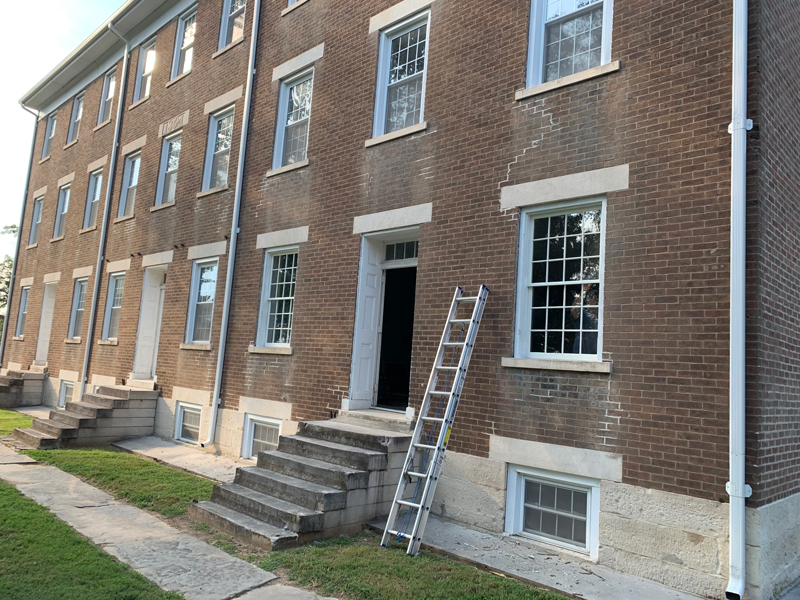 Window restoration in the Ministry Shop, thanks to a grant from the National Trust for Historic Preservation
Repointing brick, repairing a hearth, window restoration in the Centre House, thanks to a grant from the E. Rhodes & Leona B. Carpenter Foundation
Sidewalk installation, using original stones milled by the Shakers in the 1840s, thanks to sponsorship from the Ridley & Hull Group of Wells Fargo Advisors
Picket fence expansion, using manuscript documents and historic photographs, thanks to a donation from John and Linda Tanner
Window restoration in the Wash House, thanks to donations from Lloyd and Libby Davies, Laura Haury, Lewis and Jo Havener, Ted and Arlene Miles, Jack and Betty Kesler, Donna Hill, Steve Winkler, John Perkins, and an anonymous contributor
Interior restoration in the Centre House, thanks to a donation from Jack and Betty Kesler
WKU graduate student Carter Jackson (right) received SUSV's annual Deedy Hall Volunteer of the Year award. Jackson researched the early collecting activity of museum founder, Deedy Hall, in preparation for an upcoming exhibit.
Curator of Community Engagement Rebekah Brummett received the Multi-media Award for South Union's Podcast: "Compelling History of an American Other" from the Kentucky Historical Society.
Executive Director Tommy Hines received the the Frank R. Levstik Award for Professional Service from the Kentucky Historical Society.
PROGRESS IN RECOGNITION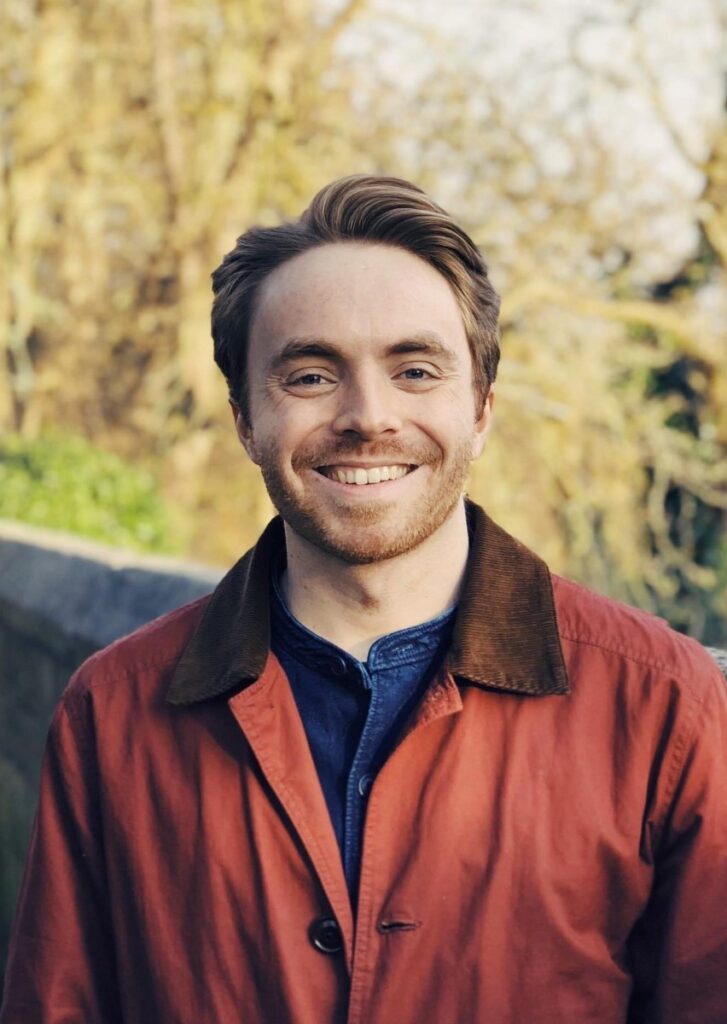 PROGRESS IN EDUCATION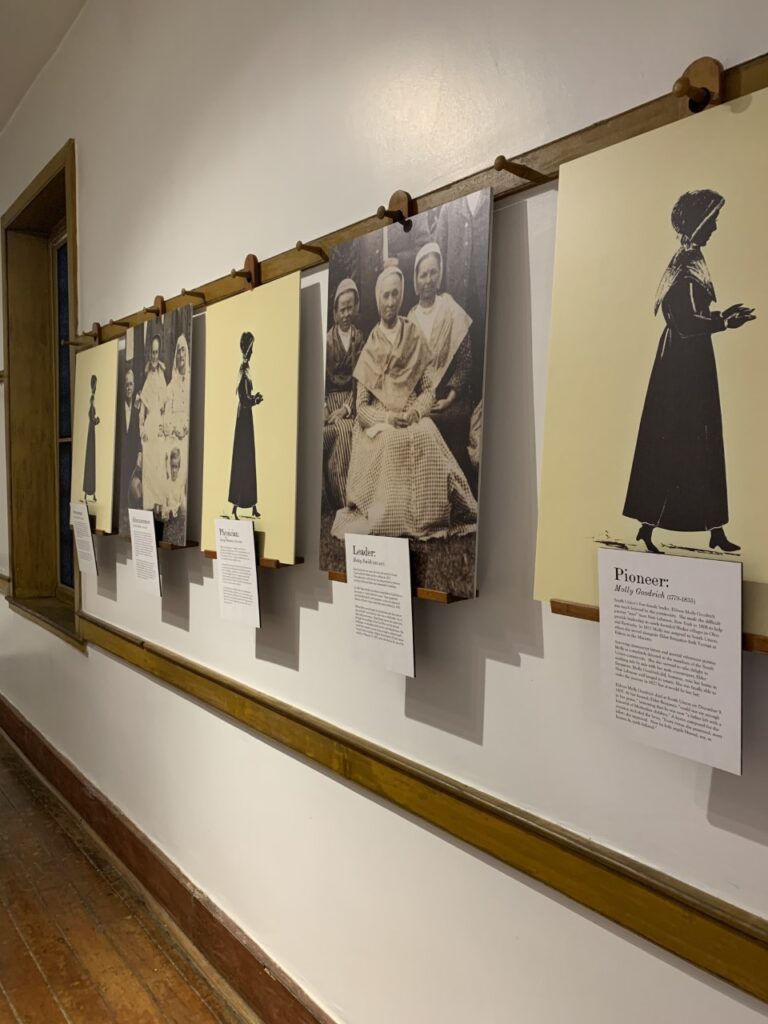 South Union Shaker Village opened a new exhibit "Equality is Stamped Upon Them: Shaker Women at South Union," (left) focusing on the opportunities women had for expression and advancement within a Shaker village.
Virtual learning opportunities were created by the SUSV including presentations on women's history, the architectural heritage of the Shakers, and "Furniture Friday," a weekly look at the museum's vast furniture collection.
South Union Shaker Village and the Shaker Village of Pleasant Hill together loaned fifty pieces of furniture and other objects to the Speed Art Museum in Louisville for its exhibition, "Careful, Neat, and Decent: Arts of the Kentucky Shakers."
Seed papers or packets, printed at South Union, ca. 1870, including Long Scarlet Radish and Flat Dutch Cabbage, donated by Kenneth Hatcher
Early 19th century dated bricks (right), made at South Union, purchased with acquisition endowment funds
Work table, ca. 1870, walnut and poplar, attributed to South Union, donated by Ernest and Elaine Ezell
"Niddy Noddy," ca. 1860, walnut, used for winding yarn, attributed to South Union, donated by Sue Lynn Neely Blanchard, in honor of Ray & Sally Price Neely
PROGRESS IN ACQUISITIONS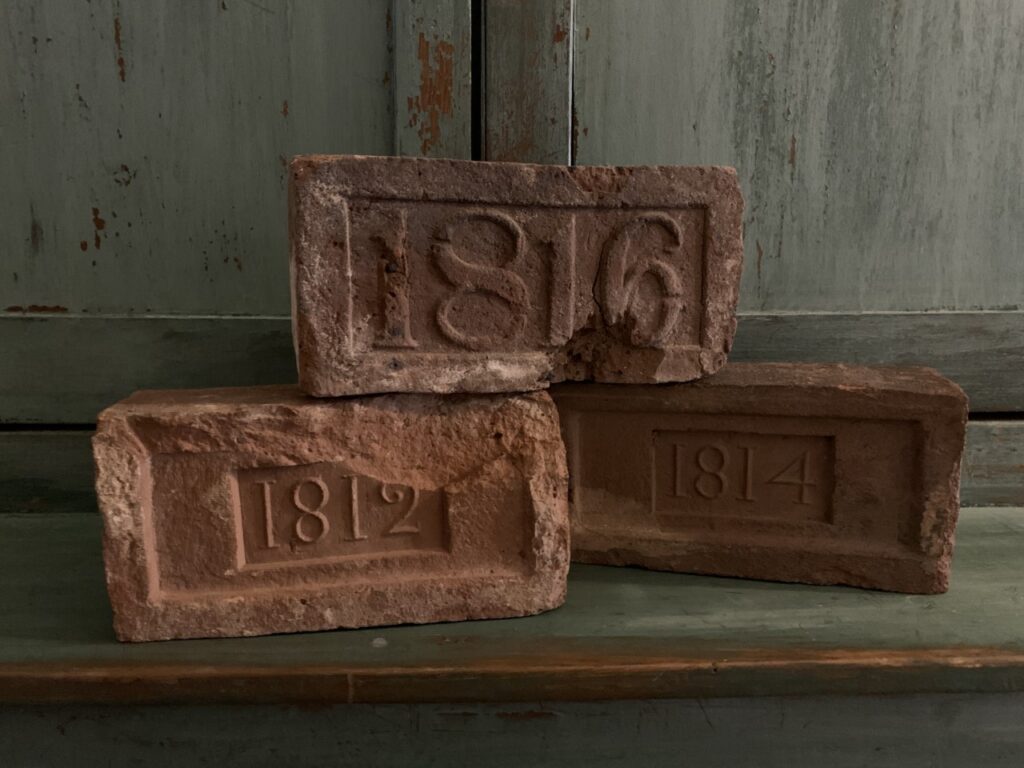 SUSV annual appeal 2021