Betsy Smith was born October 5, 1813 and came to South Union with her father and five siblings in 1823. Initially Betsy was assigned to live in the East Family, but by 1827 was listed as a member of the Centre Family. As a young girl, Betsy witnessed the construction of the massive new Centre House, the foundation of which nearly complete when her family arrived. She also took part in the final stages of work on the building in 1834, recorded as being one of two women and one man who painted the shutters, "verdigris green."
Betsy's youth is characterized by hard work and growing responsibility. At 23 she was assigned the role of caretaker for the young girls, taking up quarters on the 4th floor of the new Centre House. She continued in that role for nearly a decade.
In 1844 Betsy Smith was asked to assist lead Eldress Sarah Rice in her duties, to "stand with her in care." She accompanied the Ministry on a trip to Union Village, Ohio in July of 1846, her first recorded journey away from South Union. Betsy apparently proved both faithful and able, as she was appointed lead Eldress of South Union on September 30, 1850.
Journal references during Eldress Betsy Smith's tenure record milestones like her trip to Mt. Lebanon in 1854, as well as advantages afforded by her position in the Society.  However, Betsy also enjoyed picnics and outings, was not adverse to manual labor like painting and cleaning, and enjoyed the everyday work of making silk kerchiefs as gifts for "our Eastern friends" and participating in bonnet-making bees. Elder Harvey Eads marveled at Betsy's work ethic in June of 1891 when he penned, "Remarkable—Eldress Betsy Smith finished washing the walls and ceiling of my room in the Ministerial little brick building & she nearing her 78th year!"  Eads was 84 at the time.
From 1868 until 1872, the Kentucky Shaker villages were joined into a singular bishopric. During that time Eldress Betsy Smith and Elder Harvey Eads shared their duties with James Rankin and Paulina Bryant of Pleasant Hill. Once the combined government was dissolved, Eldress Betsy again became the sole female leader at South Union, remaining in that position until her death on February 27, 1897, at the age of 84.
---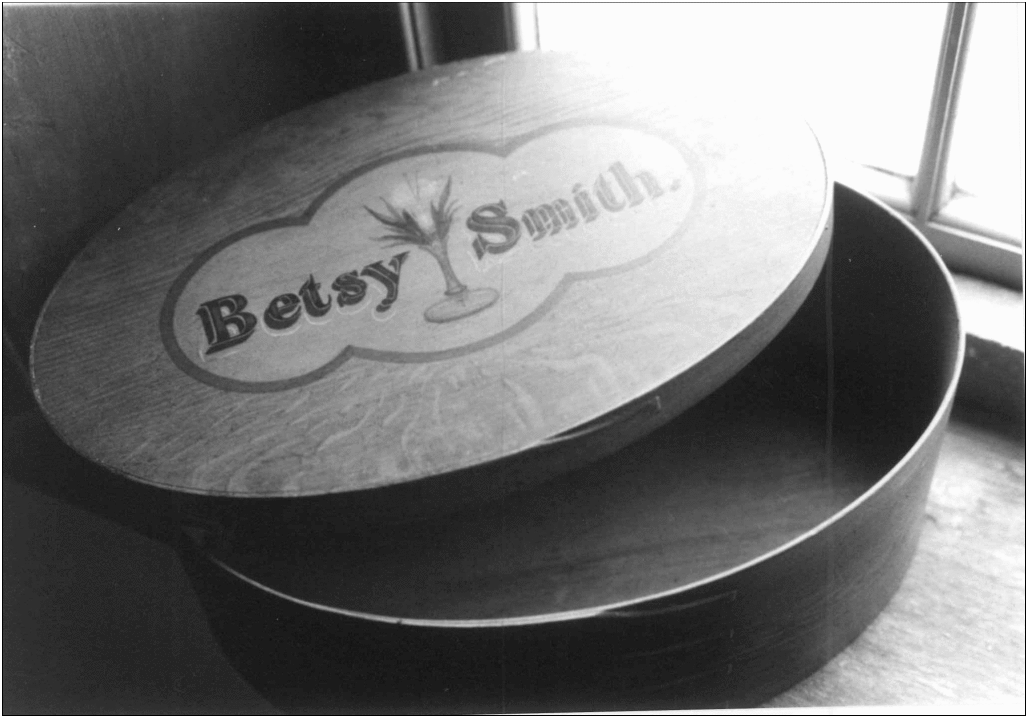 [pictured at left]
A "presentation box," probably made for Eldress Betsy Smith during her journey to the eastern Shaker villages in 1854. The box was sold at auction when South Union closed in 1922 and is today in the museum collection.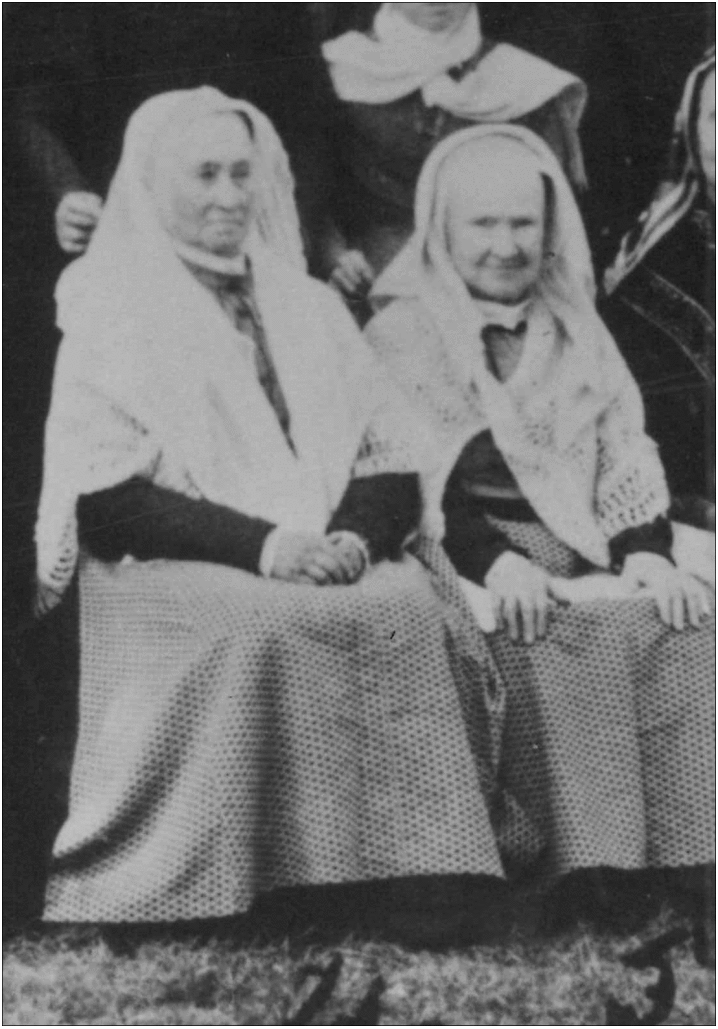 [pictured at left]
Eldress Betsy Smith (left) and Eldress Nancy Moore, seated side by side in a group photograph at South Union, ca. 1885. Nancy Moore served as Eldress Betsy's assistant from 1850-1864, and again from 1873until Moore's death in December of 1889.